Increase your performance through the efficient use of
your customer and employee data.
The acceleration of economic transformations is turning company management practices upside down. Reliable information tools are needed to measure key values quickly and whenever necessary, whether it be the performance and well-being of teams, adherence to change or customer satisfaction.
With nearly 20 years of experience, TEAM CO has developed a series of barometers accessible to any structure.
1: PROJECT DESIGN
Framing of the project, definition of the analysis structure and co-construction of the models with the company
2: DATA COLLECTION
Collection of internal and external data via surveys, barometers, polls, etc.
3: MULTI-DIMENSIONAL ANALYSIS
Precise and advanced analyses carried out by our data-scientists, discover the full power of Business Intelligence
4: DECISION SUPPORT

Advanced recommendations in dashboards / matrices to simplify your decision making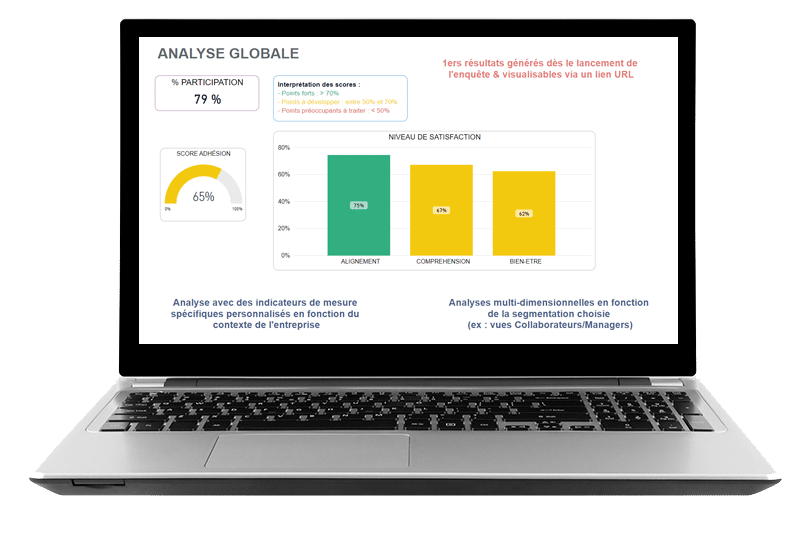 TEAM CO BAROMETERS
Practical, easy to set up and offering an attractive user interface, our surveys are accompanied by advanced analyses and summarised in visual dashboards.
Fully modular, these tools have been specifically designed to help you track your organisation's strengths and areas for improvement.

TEAM AND SOCIAL BAROMETER
Goals:
- To identify the individual needs necessary for the successful completion of projects
- To deploy new managerial positions
- To promote collective progress


CHANGE BAROMETER
Goals:
- To mobilise teams to embrace change
- To measure the acceptance of these changes and their impact
- To accelerate the adoption of new tools or a new organisation


MANAGEMENT BAROMETER
Goals:
- To develop a project culture
- To support organisational transformations
- To boost innovation


CUSTOMER SATISFACTION BAROMETER
Goals:
- To be more responsive to customer requirements
- To adapt products and services more quickly to changing customer needs
- To strengthen customer relations over the long term, transforming them in a spirit of partnership
Testimonies
They talk about it
A solution that is not very restrictive for the customers questioned, an optimized response rate thanks to telephone reminders and the educational approach of TEAM CO teams sensitive to customer concerns. The TEAM CO customer satisfaction barometer has enabled us to improve our customer satisfaction by 20% over 2 years.
Nicolas Noir
Head of Operations at Korus